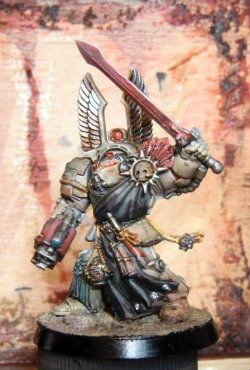 The first thing I did when I got the boxes insides out, we played a test game with my buddy. After that I I took my knife and started to scrap out mould lines and flashes. I decided that if I paint the terminators first and not the handsome chaos forces, I might be able to finish the whole box someday - I'll rewad myself with more interesting models after I've done all the boring bits.
These are made quite fast by speedpainting. Some washes over a white basecoat and some minimal highlights plus a variety of aging. The whole squad was painted in or under 8-10 hours (can't tell because I lost my sense of time after a delicious bottle of home made wine).
EDIT:
the whole squad in a blurry pic!
-Turska